A Look at Koupal Angus
Koupal Angus is a 6th generation of Angus breeders, and is strictly a family run operation.
Koupal Angus consists of Lavern and Alice and grandson Derek and wife Kristi along with the 6th generation great grandson Weston. With Derek and family moving to the home place, they are the 6th generations of Koupal's to live there since 1916 when LaVern's grandfather Mike purchased 140 acres. Following Mike and Josephine living there were Lavern's parents Leonard and Albina. In 1956 at the age of 11, LaVern's father passed away, his mother and his 3 siblings the oldest 16 and youngest 2 continued to stay on the place with LaVern basically doing what he could as such a young boy.
In 1964 LaVern and Alice (Sejnoha-that is a Czech name) were married and were the 3rd generation to live there and raised their 5 children Brenda, Bud, Becky, David and Jenny making them the 4th generation. In 1974 Koupal Angus became a member of the American Angus Association, and they started on their dream of raising registered Angus Cattle. LaVern's dad always had Angus cattle but they were not registered. LaVern and Alice had been milking cows at that time and decided that was not the way they wanted to spend the rest of their lives. Their first purchases were from Cedar Grove Angus Geddes SD where they purchased 1 heifer which if you look back far enough can still be found in some pedigrees. The first bull was from Jorgensen Brothers of Ideal, SD a Rito 149 son. They were on their way. Coming into the picture next was Vern Kirschberger the American Angus rep for our area. Vern was a huge influence to our operation helping LaVern choose quality females as the foundation for building a cow herd. Some of the things Vern said to us still stand today. He was more than a Angus rep, he was a friend and mentor. Koupal Angus hit the sale block in 1978 selling their first 6 bulls selling at the Avon Sale Barn in Avon, SD at a cow sale. They averaged $600. We decided that maybe we needed to see more cattle so we went on our first Angus tour sponsored by the Black Hills Angus Association. We took all 5 children and said it was a vacation. Our oldest Brenda never left the bus she read the whole time. But the best thing about the tour was not the cattle but the gentleman we met. We just happened to be on the bus where Milo Rypkema of Mt. Rushmore Angus was the tour guide. He basically took us under his wing and introduced us to many people that day. He was an amazing gentleman and a friend for life. Along with his wife Helen, we spent hours at stock shows visiting and looking at cattle. We still miss them.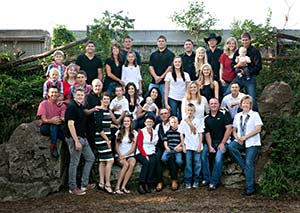 Our family went on to the kids showing in 4-H, a few local shows, state fairs but it was never so much about winning but the interaction with the people you met. We are proud that our son Bud and wife Bernie sons Joe and Dan and daughter Kim that have developed B&B Angus and we continue to have a production together. David and wife Peggy and sons Colton, Ryan, and Clancy have moved out to Hot Spring where he works for the Mitchell Vo Tech as a Farm /Ranch Business Management advisor and raises a few calves. Our daughters Brenda, Becky, and Jennifer and families are always on hand to lend a hand at the sales. Even though the girls don't live on farms, I still think the atmosphere of the sale is something they don't want to miss as their kids all think Bull Sale Day it is a national holiday. We are deeply indebted to them for all the help they have given us over the years. They herded cattle in ditches when grass was short, helped move them on horseback from pasture to pasture, clean bulls for the sale and the list goes on.
Over the years we have purchased many bulls, can't always remember if they were that good or not, but you never forget the people you purchased them from and the friends you made a long the way. We have always said that this business is not about selling cattle, everyone has good cattle, it is about the people you meet along the way and how they influence your life. We have been fortunate to have made some lifetime friends through cattle and selling cattle is a sideline. It's been great and we thank the Angus cattle for the ride.
Koupal Angus consists of 300 cows B&B Angus 400 cows. Our biggest strength we feel is our cow herd We are very conscious of udder quality, teat size, milking ability and just good mothering qualities. We judge a bull by the females he leaves in our herd. We welcome visitors anytime your in the area.